The kitchen has become an important part of our living space, that's why a kitchen design must seamlessly blend into the rest of the interior. Keller kitchens are designed with attention for detail, both on the outside as well as inside. With the new items we introduce in 2021, we offer even more possibilities to turn kitchen furniture into real design furniture.

"A kitchen is no longer just the space where we prepare our meals. It has become a place to enjoy and relax, which has become part of our interior and therefore may be seen!"
Warm wood tones and stylish colours
In today's interior and kitchen trends, we see mainly calm colours and natural materials.
We therefore added beautiful stylish tones such as mist, gravel, graphite and cocoa to our colour collections. Warm wood decors are not be missed this year, we chose espresso oak, silver oak and champagne oak as new decors, so contemporary designs can be made for every living style and taste.

Do you prefer traditional white or a trendy black kitchen? Or how about classic marble or daring metallic kitchen fronts? That´s also part of our programme, as well as a wide collection of lacquer and stain hues!
Also beautiful on the inside…
Keller kitchens are not only beautiful on the outside, but also on the inside. In addition to white, you can now also choose the carcase inside in the colours mist and graphite. The cabinet interiors such as turntables and (pan)drawers match the colour of the inside. What a perfect finishing touch!
Keller carcase inside white Keller carcase inside mist Keller carcase inside graphite High units for a sleek design
High units make the design extra sleek and generous. Our extra high base units have a low plinth, so the working height remains the same. Extra advantage: it also provides more storage space!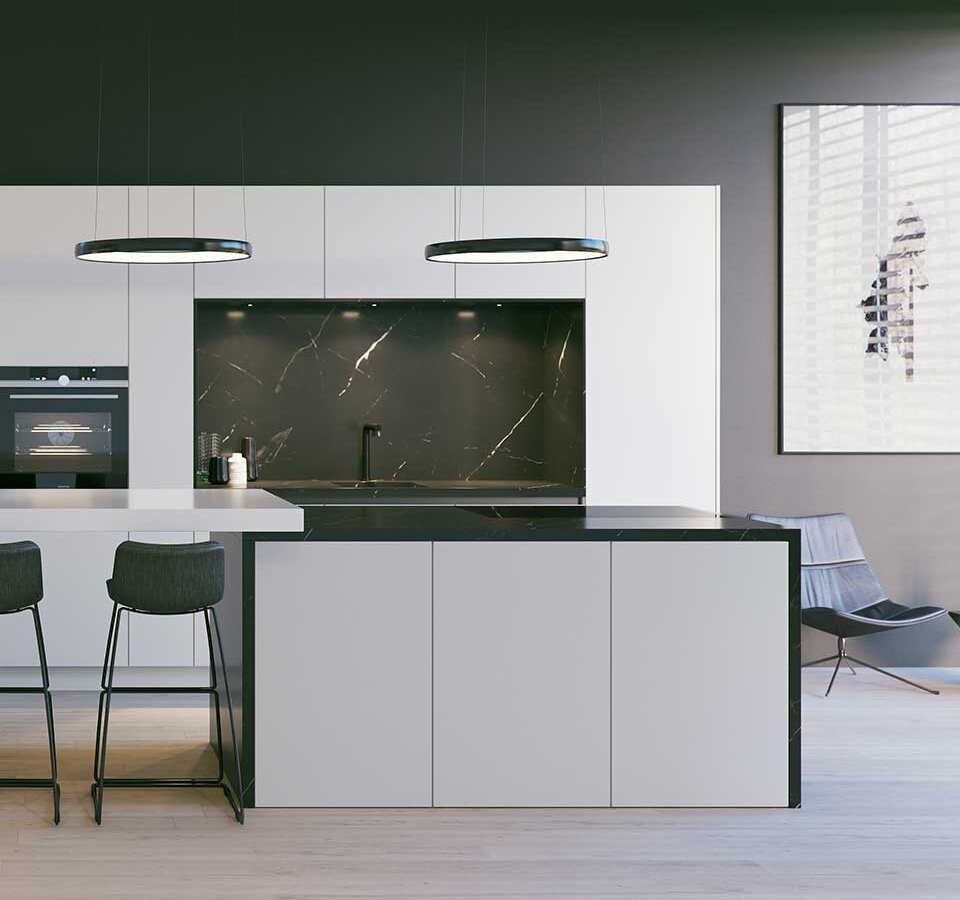 A Keller (pan) drawer is a neatly arranged system with an attractive design. We only work with the best materials and techniques. Our kitchens are equipped with an Antaro drawer system as standard, which is known for its user comfort and beautiful layout.
You can now also choose to "upgrade" to the Merivo drawer box. This super-sleek model is extra stable, it opens and closes smoothly with even your heaviest pans in it!
This new drawer comes with a new model inlay mat and cutlery layout with extra top layer and sleek design. The drawer box, cutlery layout and the insert mat are again available in light grey and anthracite to really complete the kitchen design.