Matt and black are on trend!
Black is the trend. Just like matt colours. By fitting this handleless kitchen with TIP-ON (touch-to-open), the result is extra sleek.
TIP-ON for a super sleek design
This kitchen is fully equipped in TIP-ON (touch to open).
This creates a beautiful interplay of lines and a super sleek appearance.

In this kitchen:
Ultra matt doors in the colour Carbon
Sleek look due to handle-less design
Spacious island with breakfast bar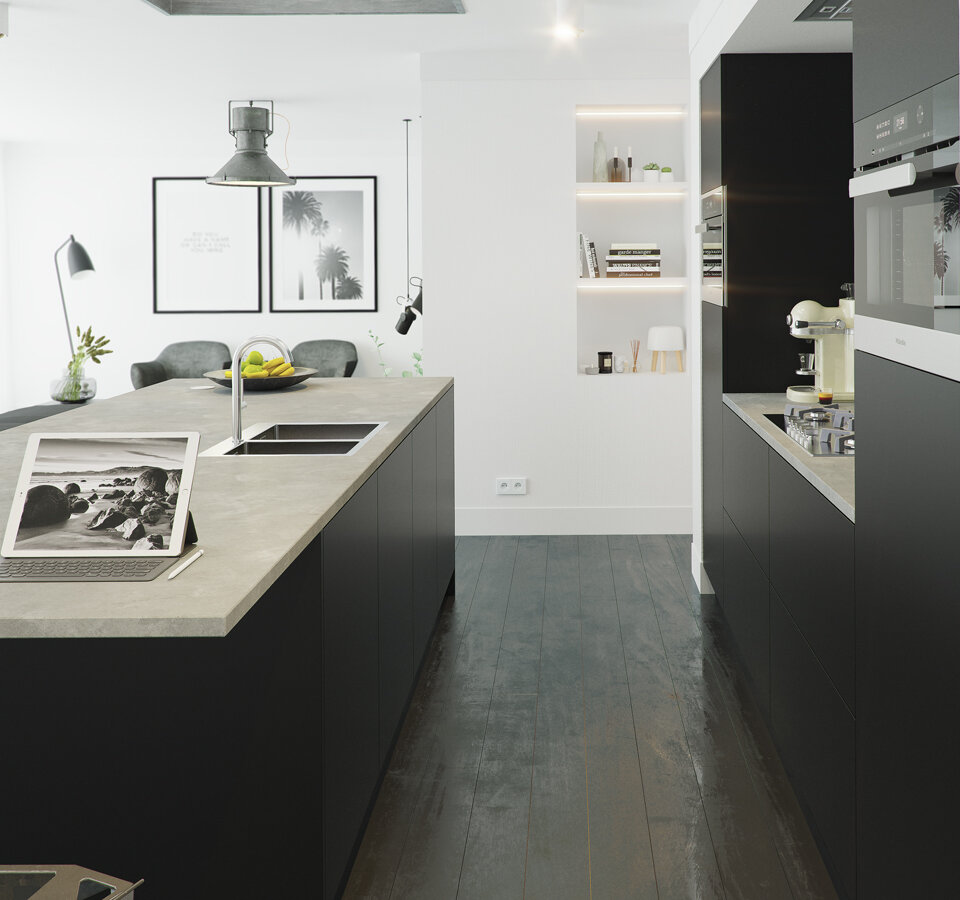 Prefer a handless trim, knob or handle on the fronts? No problem, you can choose from ar large range of types and colours. Is a concrete top above your budget? A laminate worktop with concrete print is warmer, easier to maintain and more affordable.
The kitchen layouts that you will find on this website and in our kitchen brochure serve as inspiration and can be adapted in terms of layout, model, colour, handle (trim)/handleless and many other options. More information about the possibilities? Visit one of our Keller dealers. They are happy to make a design in this style that suits your home and budget.
Ultra matt melamine is available in six stylish colours. Opting for traditional melamine, gives you a wide choice in uni colours, wood and trend decors. Also very beautiful!

Remove stains as quickly as possible. There are substances that can no longer be completely removed when not cleaned immediately. Use a mild household or kitchen cleaner and a soft cloth. After cleaning, always dry the kitchen elements with a soft cloth to prevent water from penetrating the seams which could lead to swelling.

For cleaning, use a mild kitchen or all-purpose cleaner dissolved in water and a soft cloth. Do not use abrasives, anti-scaling agents or corrosive substances. Use a soft cloth and not a scouring pad or other abrasive materials.